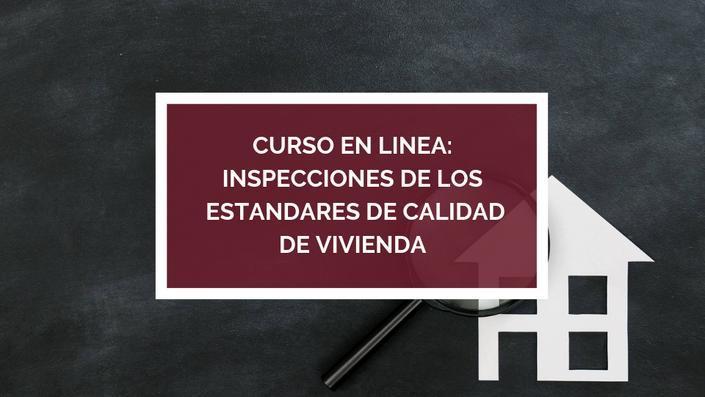 Inspecciones de los Estandares de Calidad de Vivienda (HQS)
El Unico curso de Inspeccion en Español en linea
Muchos estudiantes salen del curso de adiestramiento con tanta información aprendida, pero cuando van a aplicarla se les olvida. Este curso fue diseñado con toda la información del curso en vivo y más.
Lo mejor de este curso es el acceso por 12 meses por medio de tu computadora, MAC, tableta o teléfono. Adicionalmente, es un curso interactivo donde puedes hacer preguntas en los cometarios de la sección y unos de nuestros adiestradores te la contestaran. WOW! Es como tener a tu adiestrador(a) accesible en todo momento.

Pero no lo dejamos ahi, al completar el curso recibiras un certificado de que completates el curso, directamente a tu email registrado!
Lenguajes:
Español e Inglés
Horario:
Su disponibilidad
Duración:
Accesso por 12 meses
Audiencia Recommendada:
Supervisores del Programa de HCV, Equipo de inspectores de HQS, Tecnico(a) y Especialistas del programa de HCV
OBJETIVO:
Mantener lazos estrechos con los propietarios y la comunidad al asegurar que los inspectores y todo aquel personal que trabaja con el programa de HCV entiendan plenamente los elementos necesarios del HQS. Este curso provee información sobre estándares generales de habitaciones; la cocina, baño, electricidad, plomería y seguridad, incluso con las regulaciones sobre pintura a base de plomo. Adicionalmente se discuten los cuatro puntos indicadores del SEMAP relacionados con las inspecciones HQS.
Resultados del Aprendizaje:
Al completar el curso usted deberá entender:
• Qué constituye una unidad decente, segura y sanitaria
• El desarrollo de estándares locales y las responsabilidades del inspector
• Requisitos de HUD para sus inspectores
• Hallazgos recientes comunes de auditorías de la Oficina del Inspector General (OIG)
• Electricidad y seguridad
• Ventanas, paredes, techos, pisos interiores, y baño
• Baño
• Exterior de la estructura
• Calefacción y plomería
• Salud general y seguridad
• Regulaciones de pintura a base de plomo
• Indicadores del rendimiento SEMAP para el HQS
Your Instructor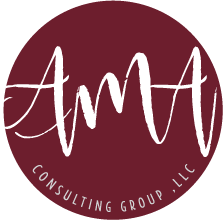 AMA Consulting Group LLC is a small business corporation actively involved in the day-to-day operations of small, medium, and large Public Housing Agencies (PHA); and the intricacies of subsidized housing. Our hands-on experience with over 45 years of combined experience in the daily challenges a Public Housing Agencies faces has given us the ability to assist them with innovative solutions. We believe that in order to create a better affordable housing system education and information needs to be made available to everyone, everywhere, at all times.
We Are Passionate. We Are Committed. We Are Creative. We Make it Simple
Course Curriculum
Webinario
Available in days
days after you enroll
Requisitos de Detectores de Humo
Available in days
days after you enroll
Frequently Asked Questions
Cuando comienza el curso y cuando termina?
El curso comenzara el 1 de noviembre del 2018 y tendran acceso al curso hasta el 31 de octubre del 2019. Tu decides dentro de los 12 meses cuando comienzas y cuando terminas.
Por cuanto tiempo tengo acceso?
12 meses- por todos los sistemas electronicos. Denle baja al Teachable App, completamente gratis, en cualquier telefono o tableta.
Que pasa si no estoy contento(a) con el curso?
Queremos que esten contentos(as)! Pero si no estan satisfechos con la compra contactenos dentro de 5 dias desde que comienze el curso para una devolucion de los fondos.
Cuando Recibo el Certificado de Completar el Curso?
Una vez que hayas completados todas las areas del curso, le enviamos el certificado al correo electronico que utilizo cuando se registro.